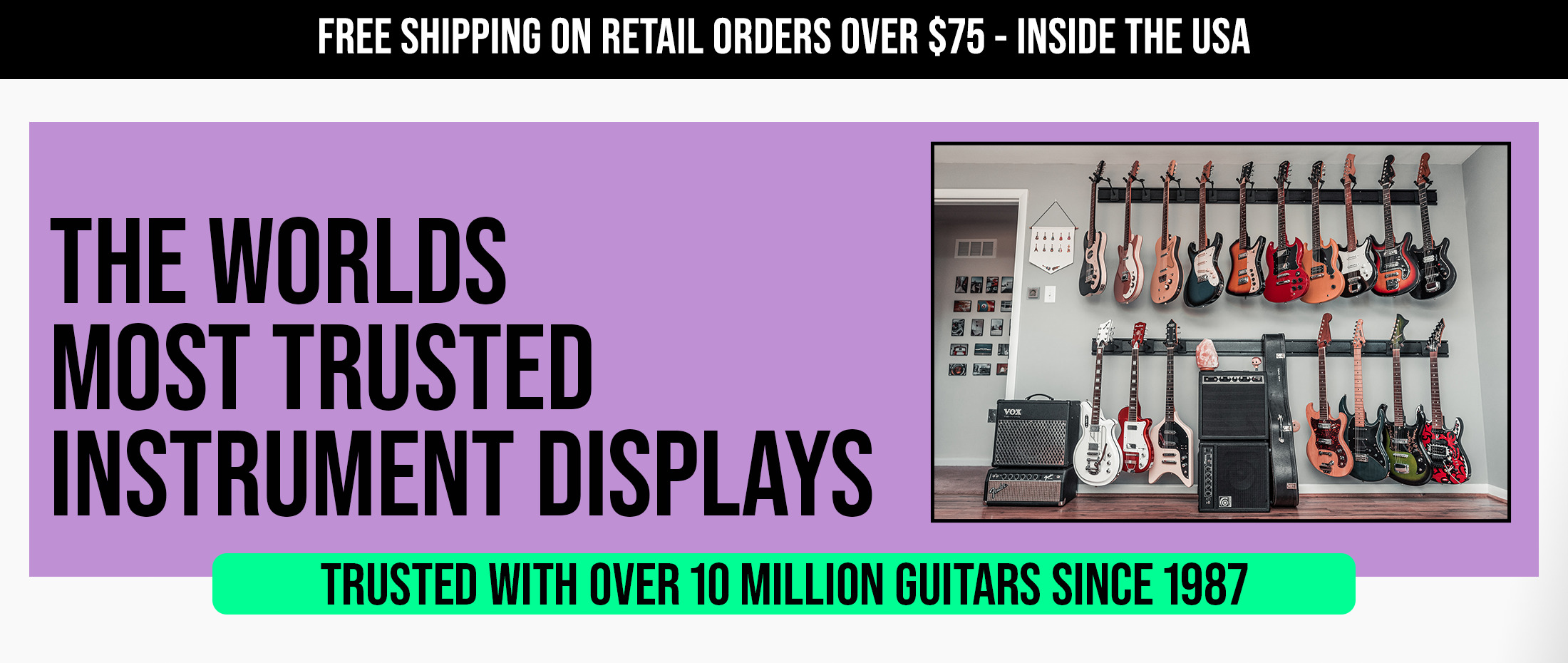 ---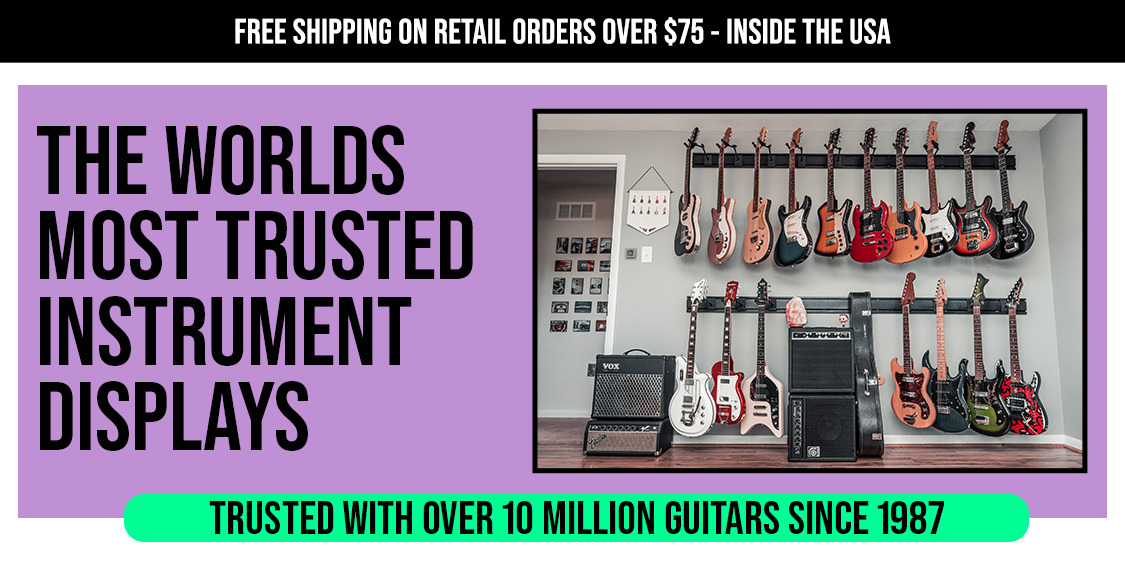 ---
---

---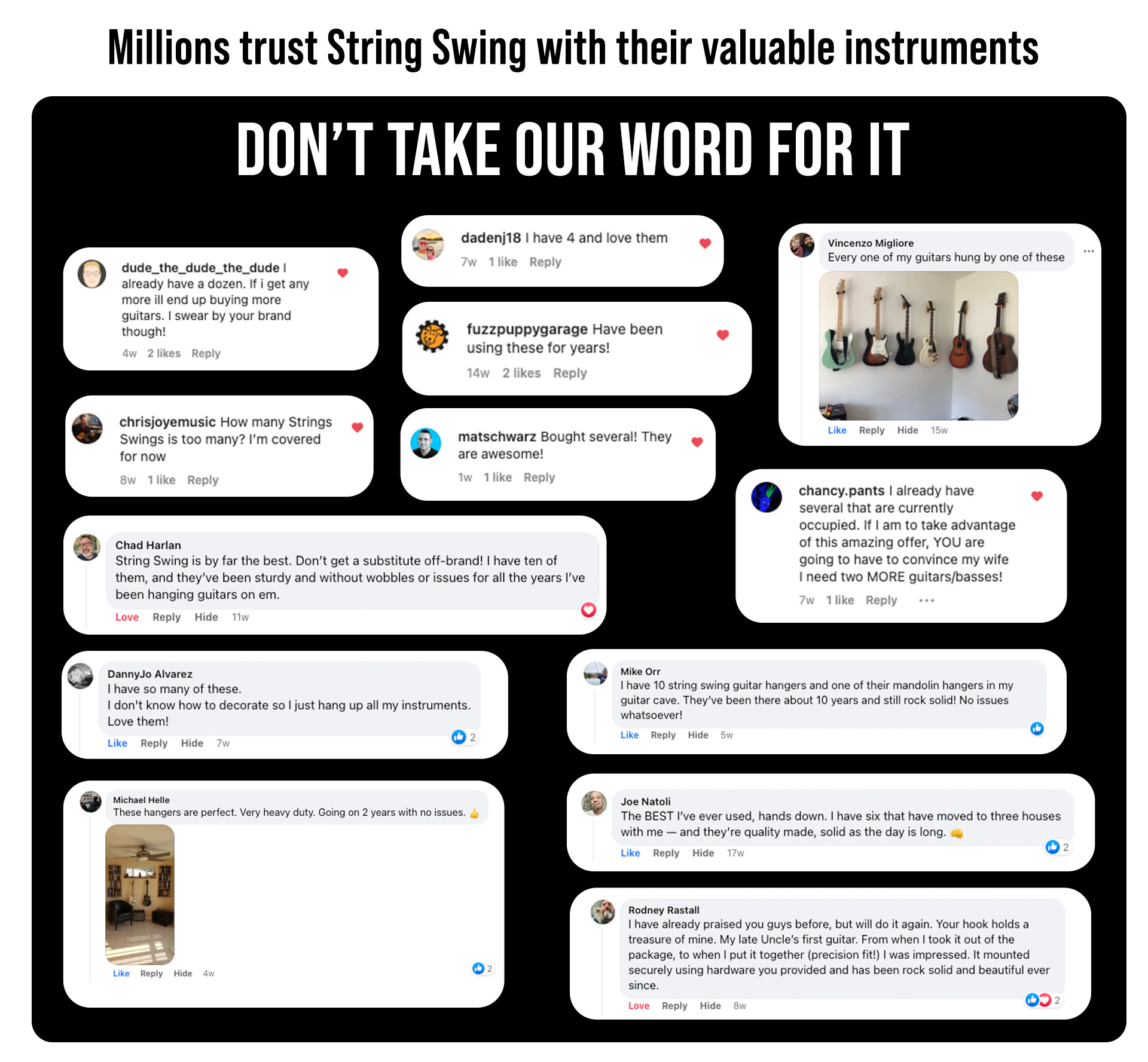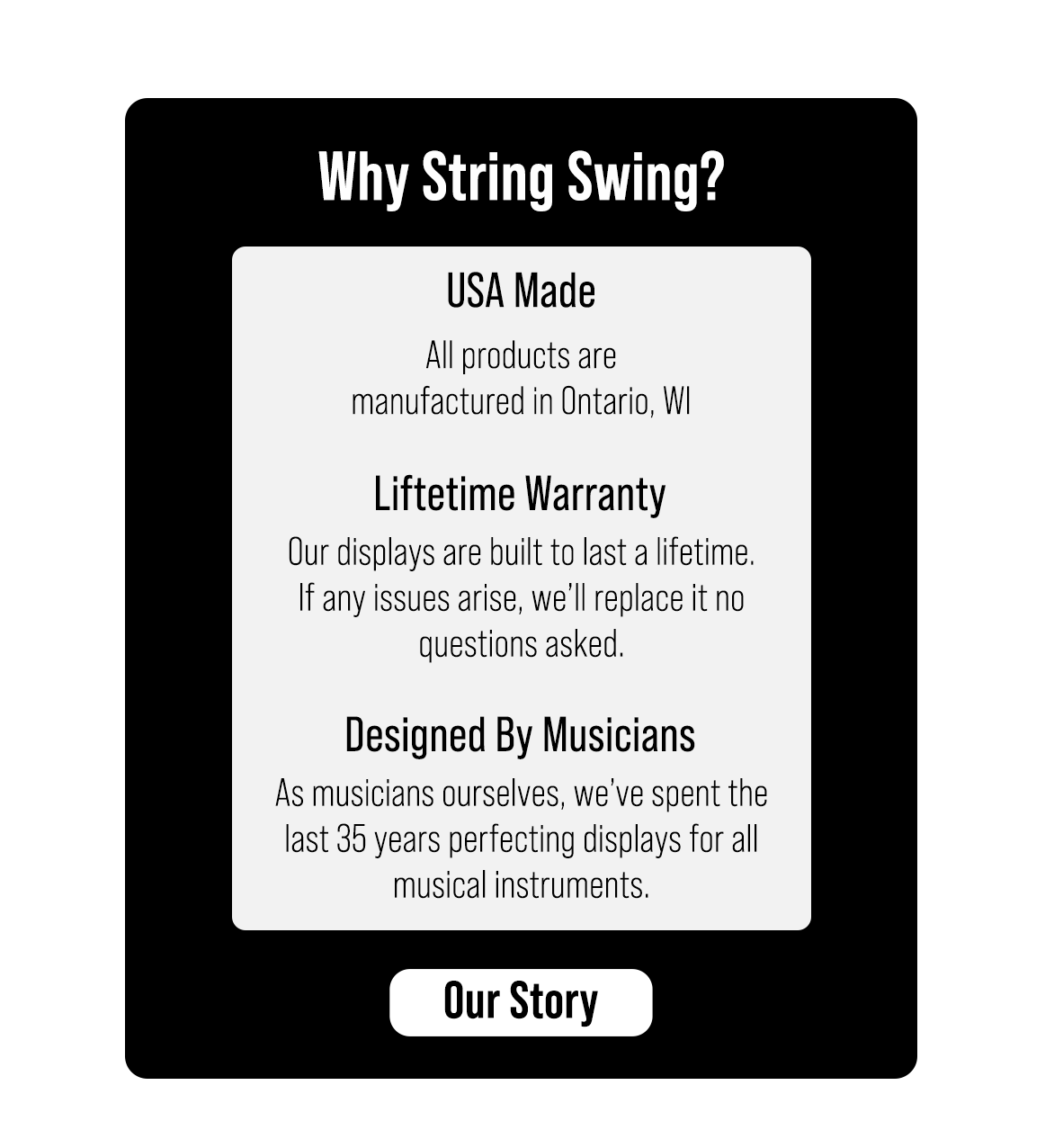 ---
---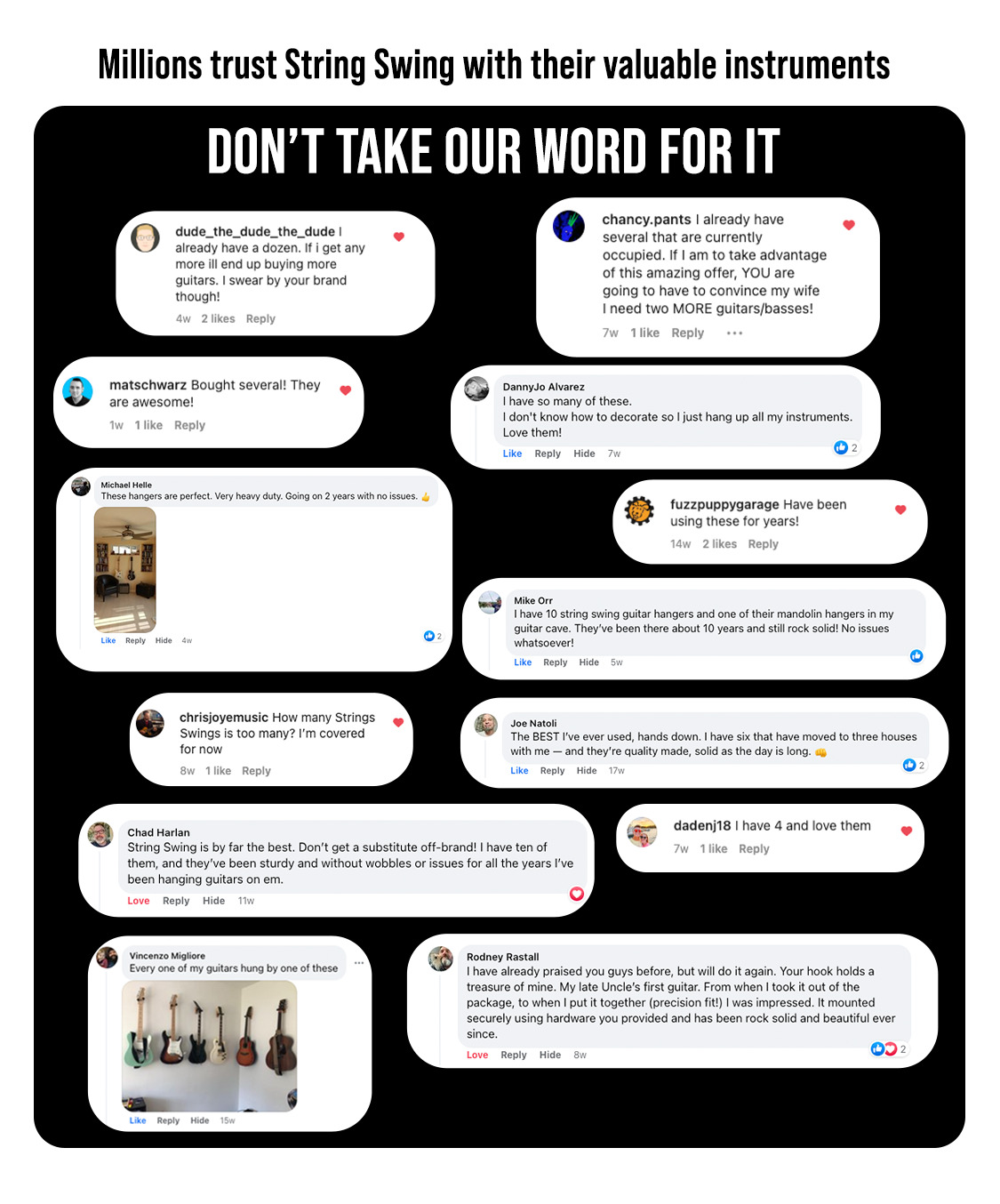 ---

What is your most popular guitar display?
Trusted by over 10 million guitars around the world, our best-selling guitar wall mount remains the original guitar hanger Paul created in 1983 (link). With a few minor improvements, the new design, known as the "Guitar Keeper", has a deep cradle design that prevents the guitar from being improperly placed into the holder. This ultimately provides a safer hanger for your instrument, as the guitar needs to be lifted 2 inches and brought forward to be removed.
The wood blocks that our guitar holders attach to are made of authentic North American hardwood that is handcrafted by local Amish. There are four species of hardwood available (Cherry, oak, Ash and Black Walnut). Natural wood color may vary. The new Keeper design is great for guitars with single or uneven heels. The pivoting yoke allows for the guitar's headstock to be cradled perfectly while still hanging straight. This yoke may be too narrow for some classical guitars, in which we recommend purchasing the original CC01. We simply added a "K" (for Keeper) to the end of the original product code to distinguish between the original CC01 and CC01K.
Where are your products manufactured?
Start to finish - in the great state of Wisconsin, USA!
What is the lifetime warranty?
Lifetime Structural Warranty
Your display unit is warranted against defects in material and workmanship for its lifetime provided the following:
The unit is purchased from an authorized dealer or direct from the manufacturer.
The unit is used for what its name implies it should be used for.
The unit has not been altered in any way, or damaged by misuse.
The unit is properly installed as stated in the Installation Instructions. (The warranty is provided only to the original purchaser.)
What is the cost of shipping?
Shipping within the 48 Contiguous States
(Excludes Alaska, Hawaii & US Territories)
Free Shipping Policy:
Retail sales over $75 will receive free shipping. (See Free Shipping Policy for details) If the order total is $75 or less, regular shipping charges will apply.
Shipping Method:
All online orders are shipped via USPS Mail or UPS Ground service, unless otherwise specified. (This is determined by the shipment size & weight, & will be at our discretion.) Express/expedited shipping is not available with online purchases; however, arrangements can be made via e-mail, phone or fax.
Shipping Charges:
The shipping charges that are quoted online are either USPS Mail or UPS Ground rates.
Should I hang an instrument with an asymmetric headstock in a String Swing hanger?
Yes! The yoke is designed to pivot so that no matter what type of headstock design your instrument has, the hanger will keep the instrument completely vertical. We recommend turning the yoke all the way into the fixture and giving it a 1/2 turn back out, so it can freely pivot to adjust to the instrument's headstock style.
Are your products safe to use for guitars with a nitrocellulose lacquer finish?
Give us a call at 1-888-455-6628 and ask for Travis. He'll gladly discuss any nitrocellulose questions in further depth than the answer below.
Our material will not eat into the nitro of your guitar like most foams and rubbers do. Fender, Gibson, and Martin, all use our products in their showrooms, and for trade shows on their standard and high nitro finished guitars. However, there are some things that are out of our control that prevent us from putting an unconditional guarantee that no marking will ever occur.
1. If an issue does arise there is no definite way for us to tell if the marks were caused by our products or if they were from a previously used product from another manufacturer.
2. If you have used a guitar polish, be sure it is wiped off before you use our products. There is conflicting information on the internet as to whether polish is ever necessary or not. Also, along these same lines, do not use any chemical cleaners on our padding material. Water is fine if needed.
3. Guitars being stored in any sunlight can be a big problem, regardless of what material is being used in resting the guitar.
4. Nitro finish remains partially a liquid for its lifetime, so extended periods of time any significant pressure on the finish can result in pressure marks almost like a smear. This is worsened if the guitar was not given proper cure time when the finished was applied.
All of this being said we still have the safest material on the market for a nitro finished guitar and thousands of people trust hanging them every day. Also, if you have a nitro white Gibson, or Epiphone we have white yokes that we recommend for these extremely color sensitive finishes. If you decide to choose our products to display your guitars, for your peace of mind, we suggest that you check your guitars occasionally to be assured of their safety.
Do you offer guitar racks and displays for storefronts?
Some of the biggest guitar brands and music stores in the world trust String Swing to properly display their musical instruments. Not only do our hangers insure your instruments safety, but they also display them in a way that is appealing to your customers.
Need some help designing your store layout? Give us a Call at 1-888-455-6628